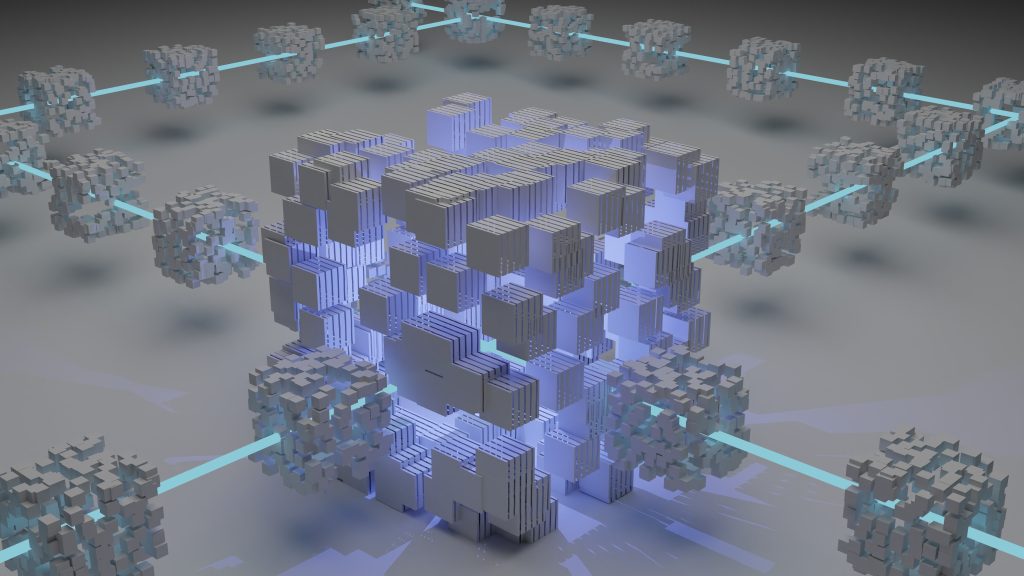 Blockchain technology is one of the most transformative technological innovations in the digital era. The blockchain industry is currently growing at a rapid pace and is expected to generate billions in revenue in the next few years.
Business leaders see blockchain as an enabling technology that will further transform their businesses. According to a 2021 Deloitte survey,[1] 80% of senior executives around the world agree that their respective industries will see new revenue streams from blockchain, digital assets and cryptocurrency solutions.
In this blog, the TokenMason team discusses what blockchain is, practical examples and benefits of using blockchain technology.
What is Blockchain?
is a distributed database that stores data in blocks that are linked together by nodes in a peer-to-peer network. As new data comes in, it is entered into a new block. Once the block is filled with data, it is chained onto the previous block, which makes the data chained together in chronological order.
Each block contains a unique identifier (known as a cryptographic hash) about the block previous to it. These blocks form a chain, with each additional block reinforcing the ones before it and including a timestamp that proves that the data contained in the block existed when the block was created.
This decentralized system of recording information makes blockchains immutable, meaning that the data entered in the blockchain is irreversible. In this way, records of transactions in the blockchain cannot be altered, deleted or destroyed.
If somebody tries to alter a record at one instance of the database, the other nodes would not be altered and would prevent a bad actor from doing so. To validate new data entries to a block, the majority of users in the peer-to-peer network would have to agree to it. In other words, the consensus reached in the peer-to-peer network prevents bad actors from validating incorrect or fraudulent transactions.
Benefits of Blockchain
Blockchain assures the security of a record of data is maintained as users in the peer-to-peer network validates transactions that are correct and not fraudulent. It is used in a decentralized way so that no single person or group has control, rather all users in the peer-to-peer network collectively retain control. Because of the decentralized nature of blockchains, when it comes to transacting, there is no need for a third-party or intermediary (such as a bank), which may charge excessive fees.
Transactions recorded on the blockchain are transparent and can be viewed using a personal node or blockchain explorer, which is an online tool that enables you to search for real-time and historical information about a blockchain. The records stored in the blockchains are also encrypted, which means that only the owner of a record can decrypt it to reveal their identity. As a result, blockchains provide users with anonymity while maintaining transparency.
Examples of Blockchain in Practice
Different types of information can be stored on a blockchains, but the most common use so far has been as a ledger for transactions. Blockchains are best known for their essential role in cryptocurrencies (further discussed in the next section of the paper) such as Bitcoin for maintaining a secure and decentralized record of transactions.
It can also be used in many other ways. For example, It is currently being used to track items in the transportation and logistics industry. It is also being used in the health care industry. In response to the COVID-19 pandemic, It was used to keep track of people who had the antibody tests and could be immune to the virus.
The practical applications of blockchains technology are endless for different industries and businesses.  Blockchains is a game-changing technology, and it is here to stay. The next decades will prove to be an important period of growth for blockchains that will bring many new opportunities for disruption and innovation.
At TokenMason, we look forward to seeing the technological advancements blockchains has to offer during the information age and in doing so welcome opportunities to work with innovative companies on blockchain initiatives.
We hope you have found this blog useful and learned more about blockchain. TokenMason welcomes the opportunity to discuss how we may be able to assist. Please visit our Blog page for more blockchains related news and articles. If you would like to learn more about DAO, please read Part 2 – Creating a DAO.
TokenMason is a leading blockchain development company that helps organizations build customized blockchain solutions, such as launch ICOs, develop cryptocurrency, smart contracts, apps that use cryptocurrency, decentralized exchanges and other blockchain-related projects.
Submit an enquiry if you would like to receive a quote for your customized blockchain project or discuss a strategy to make your blockchain-related idea a reality.
Our Services
---
[1] https://www2.deloitte.com/us/en/insights/topics/understanding-blockchain-potential/global-blockchain-survey.html